09
Oct
2015
By wyattbrand
Movability Austin Campaign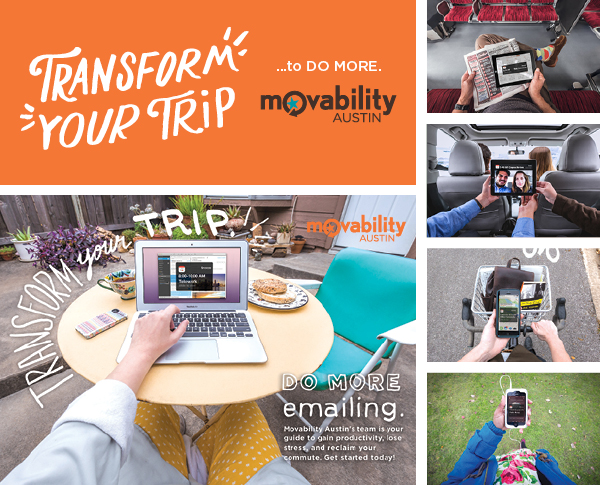 The Challenge
Our goal for Movability Austin was to identify an effective and efficient way to transform commuting for the maximum number of downtown employees. Austin, Texas has serious congestion problems with a large portion of our workforce traveling to downtown Austin at the same time, and most of them driving alone. We have a significant, shared interest in finding ways to get more downtown employees using commuting alternatives.
Our Approach
Movability Austin worked with the City of Austin, Capital Metro, Austin Chamber of Commerce, and Downtown Austin Alliance to conduct an individualized marketing and behavior change pilot that motivates downtown employees to use travel options. Wyatt Brand's strategy was to get employees re-evaluating their commutes, and give interested or curious employees the ability and support to change their behavior. This presented two primary challenges: 1) how to reach individual commuters efficiently (scalability of direct contacts) and 2) how to offer commuting solutions effectively (scalability of fulfillment—increasing an individual's ability and desire to act). This pilot required the team to rethink shared values, core messaging, outreach methodology, and course correction.
The Solution
Our research identified time as the most compelling shared value between employers and their employees, rather than the traditional focus on pain points of traffic-related hassles. Our creative focused on redirecting attention from travel time to what can be done with that time. We designed flexible print and digital assets around the "Do more: Transform your Trip" messaging to support outreach experimentation. These were communicated via direct email, social media, and this mirco-site we designed: http://domore.movabilityaustin.org. Ultimately, Movability's "travel advisors"—which we helped dispatch via a street activation we designed—were trained in Motivational Interviewing to make outreach as flexible, quick and engaging as possible.
The Results