22
Jun
2016
By wyattbrand
Why We Serve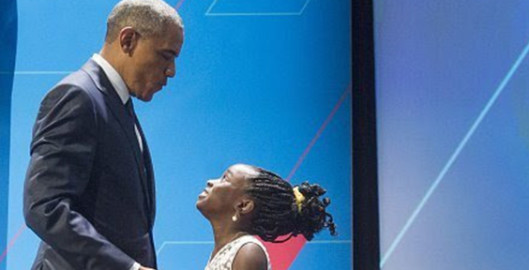 Earlier this month, a very special client—11-year-old CEO of Mikaila & the Bees—travelled to Washington to introduce the President at the United State of Women summit. She was there talking about female entrepreneurship and saving the bees. And the moment validated why we exist as a company: supporting clients in doing good, doing right, and doing well. We are so proud.
At the end of his speech when reflecting on Rosa Parks, Obama said, "History did not fall into her lap. She seized that moral arch and bent it with her bare hands in the direction of justice. That's the story that's still being written today by our modern day heroes Nancy Pelosi or Sonya Sotomayor, Billie Jean King or Laverne Cox or Sheryl Sandberg or Oprah Winfrey or Mikaila Ulmer or Michelle Obama. And the countless ordinary people that bring us closer to our highest ideals." This photo says it all.
---
"Do Your Thing" Giveaway
To further celebrate a decade of serving our allies in the entrepreneurial, cultural, and non-profit sectors, today we are launching a contest offering a complimentary design or PR package for eligible individual artists, creatives, or entrepreneurs working in the cultural or mission-driven space. We want to make sure the next great idea has an audience. At Wyatt Brand, our motto is "Do your thing! We'll tell everyone," and we are excited to help you tell your story. For full details on PR / design giveaway page.
Our Clients Are So Far Out
We are thrilled to announce the latest additions to our 2016 roster including Me & the Bees Lemonade, Creative Arts Center of Dallas, Boys & Girls Clubs of the Austin Area, and a forthcoming national initiative for California Polytechnic State University in San Luis Obispo. And with recently inked contracts with La Corsha Hospitality Group's Second Bar + Kitchen at the Archer Hotel Domain and the City of Marfa, we continue to build on our cultural expertise by strategically expanding into tourism and hospitality PR and creative services—around the block and the country.

---
Let's Get Coffee
We have successfully served more than 250 clients over the past decade – providing a variety of services such as communication strategy, public relations, and a full portfolio of design services. We look forward to hearing from you and, as we always like to remind everyone, we couldn't do this without you. Now, get out there and do your thing!