16
Dec
2015
By wyattbrand
SIMS Foundation Branding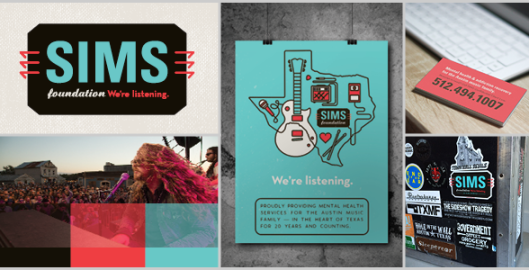 The Opportunity 
The SIMS Foundation turned 20 in 2015. It was a big milestone for a little nonprofit founded in the wake of the suicide of Austin musician Sims Ellison in 1995. Since then, the organization has matured and grown, becoming an institution in Austin—especially for the local musicians who depend on its services and the industry insiders who understand their plight. But the marketplace in which SIMS is operating has changed over the years and in 2015 it changed again in significant ways. Additionally, in December, the organization announced it would extend eligibility from musicians and the broader music industry in central Texas.
The Work
The Wyatt Brand team set to work analyzing the local and national marketplace in which the SIMS brand lives. Knowing that the pre-existing logo, tagline, and color palette were not serving them well, we developed a new brand identity to give their mission and stakeholders clarity as well as the assurance of strength. We created a new tag-line that encapsulated the shared value of musicians, music lovers, the music industry, SIMS providers, and the leadership: "We're listening." and also coined the phrase "the Austin music family" to help bring together the community and to let them know family members are also eligible.
The calendar year was punctuated with announcements of the 20th anniversary and re-brand as well as other key moments, but the headlining announcement was always known to be the SIMS Stargazing fundraiser. We designed a suite of collateral and promotional material, and used the all-star line-up to build buzz, which helped sell out the event and set the stage for the night's big news: SIMS would be extending eligibility to the entire Austin music industry, a momentous announcement covered by several news outlets including NPR, which made the trip in for the occasion.
Check out STARGAZING: SIMS 20th Anniversary Star Party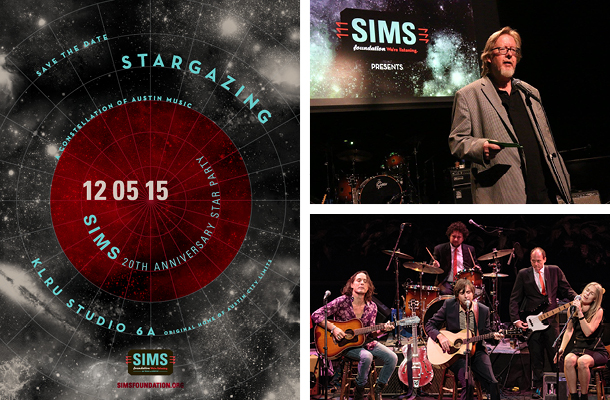 Photo Albums and Video:
STARGAZING: SIMS 20th Anniversary Star Party
Press:
Statesman: SIMS Foundation extends benefits to music industry professionals
CultureMap Austin: Rock-star gala reveals major announcement for Austin music community
NPR: Foundation In Austin, Texas, Subsidizes Mental Health Care For Musicians
2016 Addy Winner: