06
Jan
2014
By wyattbrand
Happy Holidays from Wyatt Brand, 2013: A Spectacular Year in Review, and introducing "Wyatt Blend" Coffee!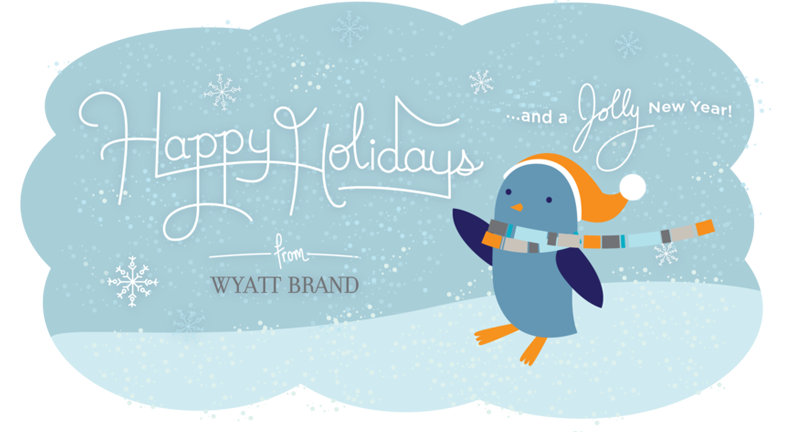 From the entire Wyatt Brand team, we wish you the happiest of holidays—whether you celebrate Channukah, Christmas, Diwali, Kwanzaa, or just some well-deserved time off! We're raising a glass to all of them, and each of you who have put your trust in us this past year. Thanks to your support, we have had the privelege of working on some truly remarkable projects from local to global, from dance to diamonds, horses to horror, life-changing to life-saving… for clients cultural, creative, entrepreneurial, publishing, retail, social services, tech, and more.
In 2013, we've grown from 4 people to 10—plus a team of 5 interns. Thank you! As we close down the office for the year this Friday, we're discussing all that we've seen this year and our hopes for 2014. We agree that we will continue working with clients that we believe in while offering services where we can make a meaningful difference. This next year, we resolve to seek out and nurture those client relationships that we care most about—and where you care about us and what we have to offer. These are the most fruitful experiences that will fuel us to be better, do better, and to find purpose in our work.
(You know what also fuels us? Scroll all the way down…)
And so we salute each of our 2013 Clients:
A'lante Flamenco Dance Ensemble—PR for The Red Shoes and The Prophet
Agni Entertainment—PR and social media for Om Shanti: One Upon A Time In Bollywood
Amy's Gardening Services—Branding and identity system
Andrea Ariel Dance Theatre—PR for Heart and The Bowie Project, re-branding, print and web design
Art on the Way—PR for 2013 installations
Austin Center for Photography—PR for Sylvia Plachy event
Austin Creative Alliance—PR, social media, and writing for Austin Arts Minute
Austin Dance India—PR for Two Generations, One Tradition: Bharata Natyam Solos and Duets
Austin Kite Festival—Statewide PR and social media for the 2013 Festival
Austin Lyric Opera—PR for the 2013/14 Season productions
Austin Public Library Friends Foundation—Announcement of the Teen Book Festival/Texas Book Festival partnership
Aware Awake Alive—All communications including national PR, social media, design, et al.
Ballet Austin—International PR for the Israel tour of Light / The Holocaust and Humanity Project
Blue Starlite Mini Urban Drive-In Austin/Miami—PR for both cities
Blum Body Therapy—Social media
Breast Cancer Resource Centers of Texas—PR for Decoding Annie Parker film screening
Cave Dog—Branding, print design, and packaging design
Citizen Generation—Graphic design
CLINK—National wedding industry PR and other services
College of Communication at the University of Texas at Austin—Ideas@Work publication design
CommUnityCare—"Together, we're CommUnityCare" campaign including PR, design, and video from One Story Productions
Copyright Alliance—PR, branding, and a SXSW event feat. Camper Van Beethoven, Los Lonely Boys, et al.
Corcoran & Co.—Social media consulting
Crank Collective—PR for Cabeza de Vaca and Alamo Aftermath theatre productions
Crystal River Inn—PR for the sale of the business and property
Dart Music International—PR for the DMI House at SXSW 2013
Diamonds Direct—PR for the opening of the Domain retail location
Formation—PR and social media for ongoing projects and new business in Columbus, Orange County, Houston, et al.
Full City Rooster Coffee Roasting Studio—PR for their grand opening in Dallas
Greg Davis Photography—PR for his Museum of the Southwest exhibition: India's Kumbh Mela
H-E-B—Publication design of the Read Three curriculum in English and Spanish
Help Emma Long Park—PR, social media, and grassroots activism
Housecore Horror Film Festival—International PR for the inaugural horror film and metal music festival
The Intergalactic Nemesis—North American PR for 2012/13 tour including Broadway and Spoleto appearances
in obscura—Social media
Jump! Gymnastics—Graphic design and promotional work
Kinnser Software—Graphic design
Kristin Brunner, Counselor, MA, LPC—Graphic design
Le Concierge Group—Branding and web design
Lori Braun Design—Graphic design
Memphis Train Revue—Promotional and design services
Multimedia Games (MGAM)—National PR campaign and social media
Natural Epicurean Academy of Culinary Arts—PR and graphic design
Nicole Lentfer, Natural Health Center of Austin—Graphic design
O's Campus Cafe—Web design and menu-board design
Patryce King—PR, social media, and graphic design
PKWproductions—Ongoing PR
R.O.C.K., Ride On Center for Kids—Ongoing PR
Rocksauce Studios—Ongoing PR Nationally and Locally
San Antonio Shoemakers (SAS)—National PR and social media campaigns
Staple! Independent Media Expo—PR
Tarmac Films—PR for TBA project
TechPines—Graphic design
Texas Climate & Carbon Exchange—Branding, design, and national PR for launch event
Texas Cultural Trust—PR services
Texas Monthly Custom Publishing—Publication design
The Long Center—Media planning and buying, graphic design, consulting on PR, social media, and marketing
The Owl Wine Bar & Home Goods Store—PR campaign for 1st year in business
The Taecho Group—PR
UNESCO (United Nations Education Science and Culture Organization)—Global PR campaign to promote the International Fund for Cultural Diversity with documentary films from One Story Productions
UT edX for the University of Texas at Austin College of Pharmacy—Iconography and web design
VK Construciton + Remodeling—Social media and graphic design
Yoga Yoga—Various communications services
---
Introducing Wyatt Blend coffee!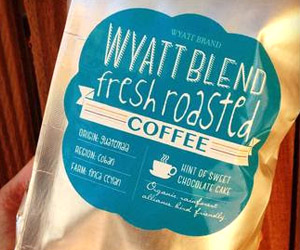 Working in collaboration with FULL CITY ROOSTER Coffee Roasting Studio, we're now proud to introduce "Wyatt Blend" coffee, which we're serving at the office and it is also available for purchase to brew at home. Sourced from the Coban region of Guatamala—from the Finca Ceylan farm—Wyatt Blend is roasted fresh and sports a hint of chocolate cake.
Come on by and have a cup on us. It's yummy!
You can order a 12oz bag of Wyatt Blend starting today and have it mailed right to you by emailing caffiend@me.com and asking for it by name. Just $15 ($13 in DFW area), it makes for a great gift for the holidays or just to say "I care about your coffee needs."
Bottoms up and see you soon,
The Wyatt Brand Team